March 27, 2020
UPDATE (4:00PM EST): 
After EST Geiger's earlier statement, Governor Cuomo announced that all non-essential construction work in New York will be temporarily shut down effective April 3rd. Please read EST Geiger's new statement below.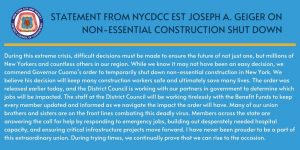 See Governor Cuomo's updated Executive Order Here. 
Original Post (9:00AM EST):
The New York City District Council of Carpenters ("NYCDCC") Executive Secretary-Treasurer Joseph Geiger released the following statement concerning essential construction during the COVID-19 pandemic.
You can see more updates on the NYCDCC's website at www.nycdistrictcouncil.com.
[Click Here to View on Website: https://nyccbf.com/statement-from-nycdcc-executive-secretary-treasurer-joseph-geiger-on-essential-construction-during-covid-19-pandemic/]