See the original post on NYCDCC Benefit Funds Website
A Few Things to Keep in Mind about your Mental Health During the COVID-19 Outbreak
March 24, 2020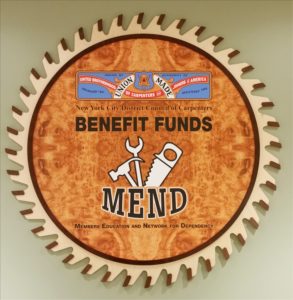 When outbreaks such as the Coronavirus (COVID-19) occur, it is normal to experience both fear and anxiety. Outbreaks like the one we are currently experiencing can trigger a feeling of powerlessness.
The following are considerations that were developed by the World Health Organization ("WHO") as support for mental and psychological well-being during the COVID-19 outbreak:
Avoid watching, reading, or listening to news that causes you to feel anxious or distressed; seek information mainly to take practical steps to prepare your plans and protect yourself and loved ones.
Protect yourself and be supportive to others. Assisting others in their time of need can benefit the person receiving support as well as the helper.
Stay connected and maintain your social networks via e-mail, social media, video conference, and telephone. Even in situations of isolation, try as much as possible to keep your daily personal routines.
Social isolation and stress can be triggers for substance use. Focus on maintaining sobriety during this challenging time by continuing to engage in recovery meetings through virtual AA and NA meetings hosted by Zoom at https://www.nyintergroup.org.
Help children find positive ways to express feelings such as fear and sadness. Every child has their own way to express emotions. Sometimes, engaging in creative activities such as playing and drawing can facilitate this process. Children feel relieved if they can express and communicate their feelings in a safe and supportive environment.
During times of stress and crisis, it is common for children to seek more attachment and be more demanding on parents. Discuss COVID-19 with your children in an honest and age-appropriate manner. If your children have concerns, addressing those concerns together may ease their anxiety. Children will observe adults' behaviors and emotions for cues on how to manage their own emotions during difficult times.
Participate in healthy activities that you enjoy and find relaxing. Exercise regularly, keep regular sleep routines, and eat healthy food.
Engage in relaxation exercises to help you connect to your mind and body during this outbreak.
If you are struggling to manage substance use, anxiety, or fear caused by this outbreak, reach out for support! You are not alone. MEND is here to provide help during this time and can be reached at (212) 366-7590 or MEND@NYCCBF.org.
You may also contact Empire LiveHealth Online Psychology at www.livehealthonline.com or call (844) 784-8409 7 am- 11 pm. Under the NYCDCC Welfare Fund your co-payment, which is normally $10, has been waived due to COVID-19. *Please note that visits with a psychiatrist are still subject to a $10 co-payment.
Source: https://nyccbf.com/a-few-things-to-keep-in-mind-about-your-mental-health-during-the-covid-19-outbreak/